I was quite sporty growing up. Football was my main passion and in my teens I played for local Saturday and Sunday league teams and attended AFC Bournemouth's Summer Soccer School. It was fun, but I often found team sports frustrating, as you had to rely so much on other people. And ninety minute games really tested my boredom threshold. The quick pace of 5-a-side football, unihockey , badminton and squash appealed more to my short attention span and suited my explosive bursts of pace.
When I was 21, just as I broke into the Uni football team, I developed a knee injury.
Having been misdiagnosed with cartilage damage when it was actually ligaments I rested it in a bandage while on a long waiting list for physio. After that my knee would give way regularly and I gave up sport almost completely for almost twenty years as a result.
Just before I turned 40 I joined The Gym in Cardiff and got into the groove of going four times a week. I mainly did cardio, with only some very occasional light weights and I was intimidated by those who seemed to hog the free weights area.
At the end of 2019, a photo of me from a gig in London made me realise it was time to lose some weight again. I changed my diet and got myself a PT , Stephen Swallow - SJS Personal Training and he shifted my focus to weights. Then the pandemic struck and I knew that the progress I'd made would be undone if I wasn't careful. So I bought some dumbbells and found Big Z's Shoulders, Biceps and Triceps workout on Instagram and built up from there.
Before & after
When outdoor workouts were allowed again, I picked things back up with Stephen and added a session with him on the local common every Thursday into my training. I soon realised I'd got the bug, I felt as fit as in my teens again and I'd be lifting weights every week from now on.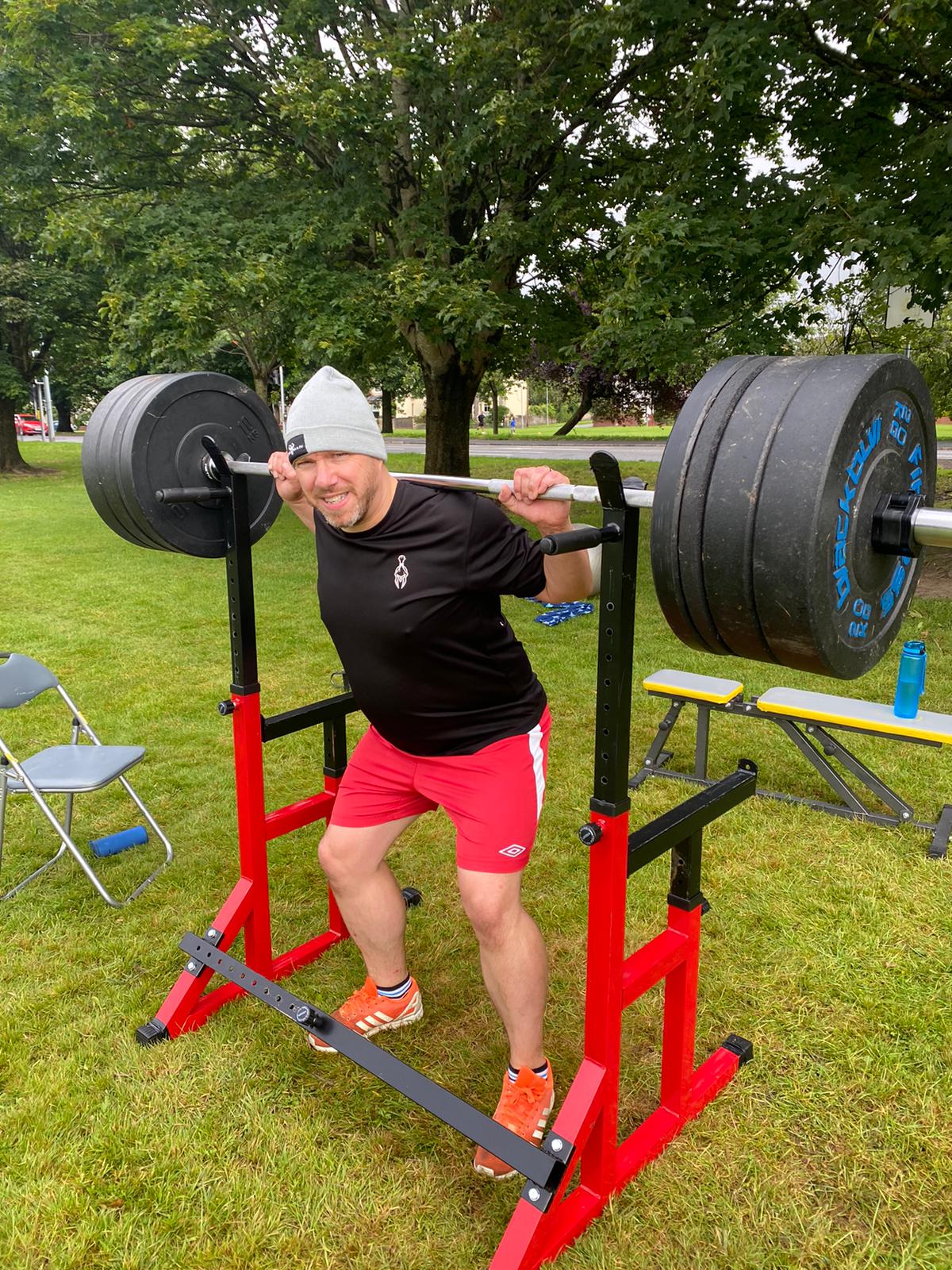 Outdoors
Strongman YouTube became my solace during months working from home while life was on hold and my interest in the sport grew to obsessive levels. In May 2021 my wife got me a 121 session with Gavin "The Bull" Bilton, at his gym Area 51 for my 47th birthday. I didn't realise the UK's Strongest Man was based 25 minutes up the road, until I saw footage of Big Loz training there. I'd only done my first compound lifts a few weeks before so went along purely to try the kit and pretend I was like the guys I'd been watching on TV every Christmas since the days of Geoff Capes. I loved every minute and Gav was a real inspiration. He advised me to come back on weekends as I had strong legs and he said he'd get me pulling a truck!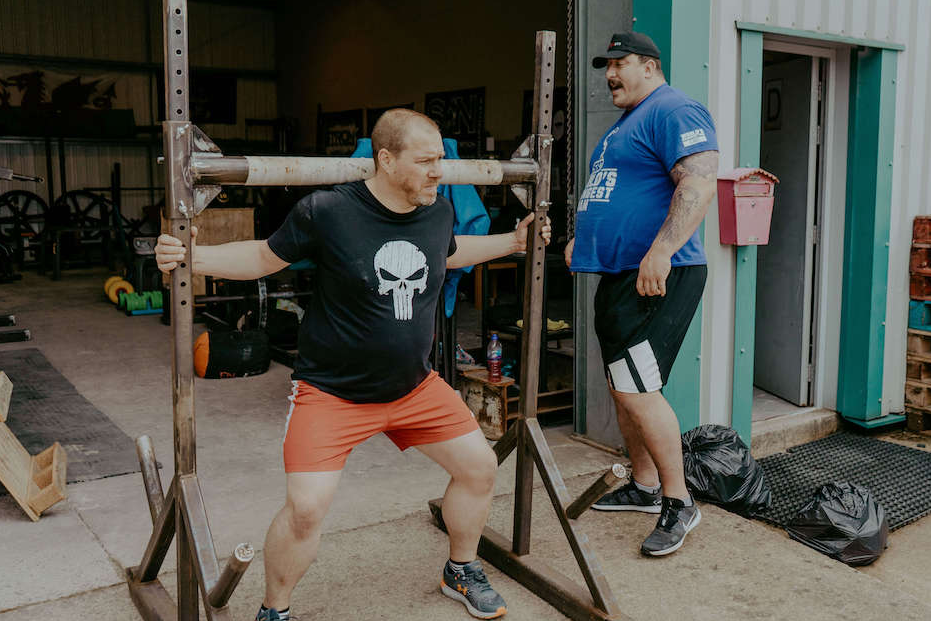 A few months later, I started to slip into depression and anxiety for the first time in years and lost my way for a while. Lifting helped me get through that and when I felt a bit more positive I headed back to Area 51. I met a great bunch of guys who were prepping for Caerphilly's Strongest Man. I said no to the chance to try the car deadlift as I felt I was way behind way where these guys were, but I was the first one to manage the seated truck pull. Looked like Gav was right! That was an amazing feeling and it made me realise I wanted to give strongman a go properly. One of the guys I met that day was Ryan Wells who has gone on to be my training partner for monthly event sessions at Area 51. And I went along to Caerphilly's Strongest Man to cheer the guys on.
Despite some hang ups about my age and my static strength I started to sign up for comps here on Strength Register, I joined Colosseum Gym, which has strongman kit, in November and signed up with an online coach Wallace Patteson (Iron Jungle Training). I also attended Gavin's deadlift seminar to pick up some more times.
In February I did a First Timer's Comp in Atherstone. I came 5th, despite managing to drop a 100kg atlas stone on my foot! I loved taking part and getting to meet a really good bunch of competitors. Then in March I was 6thin the Beginners Class at Bristol's Strongest Novice, taking my first ever event win in the farmer's walk. It was great to have my coach there to support me, alongside family and friends. I've just signed up for Atherstone's Strongest in the novice category (there's a seated truck pull in that one) and I hope to do one or two more comps before the year is out.
Getting back into a sport that I can do solo and that is a mix of short events is ideal for me. Strongman has done wonders for my mental health and restored a part of me I thought I'd lost forever.
Instagram: @peterogers2.0